Four men who were convicted for the rape and murder of a 23-year-old physiotherapy student on a bus in New Delhi in 2012 have been hanged.
Mukesh Kumar, 32, Akshay Thakur, 31, Vinay Sharma, 26, and Pawan Gupta, 25, who were found guilty of the "rarest of rare crimes" of rape and murder, were executed at 5.30am local time in Delhi's Tihar Jail.
Hundreds of police were deployed outside the jail to control a crowd that waited to celebrate the execution. Some held placards that read "Justice for women" and "Hang the culprits".
Ram Singh, a fifth convict, committed suicide in Tihar Jail in March 2013. A sixth person, who was a juvenile at that time of the trial, was sent to a reform facility for a maximum three years.
The victim, Jyoti Singh, and a male companion were returning home after watching a film on 16 December 2012 when the six men tricked them into boarding a private bus.
The men locked the doors of the bus and gang raped Jyoti. She and her friend were physically assaulted while the bus was being driven around the city for hours.
Bleeding and naked, she was thrown off the bus and an attempt was made to run both her and her friend over.
According to medical reports, the young woman suffered serious injuries to her abdomen, intestines and genitals due to the assault.
Her injuries were so severe that she had to be flown out to a hospital in Singapore for specialist treatment. Thirteen days later she succumbed to her injuries.
The police used CCTV images to track the bus and quickly located the bus driver, Ram Singh. Within five days all six men were arrested from different states.
In September 2013, a fast-track court found the men guilty of rape, murder and unnatural offences and gave them the death penalty. This was upheld by Delhi's high court in March 2014, but since that time the case has dragged on frustrating the parents of the victim.
Following the executions, Jyoti's mother, Asha Devi, told reporters: "Finally they have been hanged. It was a long struggle.
"Today we got justice, this day is dedicated to the daughters of this country. I thank the judiciary and government."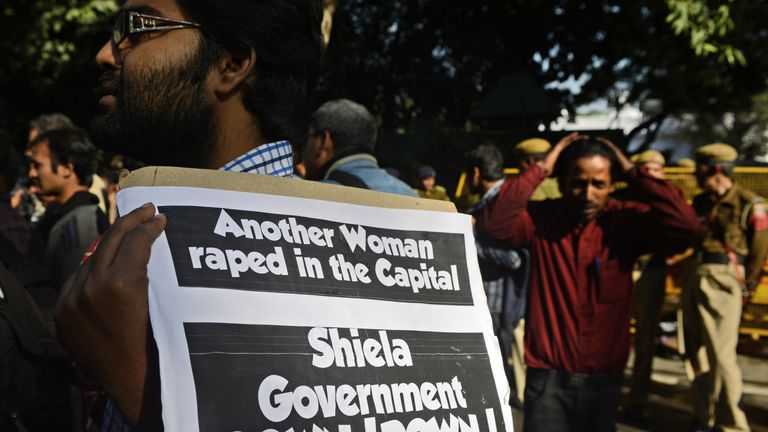 The brutality of the assault stirred the nation's soul. Protests broke out across the country and a demand for women's safety was made from every quarter.
Under intense scrutiny and pressure, the government set up a judicial commission over atrocities against women.
Its report indicated that failures on the part of the government and police were the root cause behind such crimes.
The Criminal Law (Amendment) Ordinance was promulgated in February 2013 which brought in new laws and strengthened old ones to protect women.
Fast-track courts were established to try cases of crimes against women in a time-bound manner and punishments made harsher.
India was also put under the microscope for its record on protecting its women.
According to the 2018 Thomson Reuters Foundation Survey, India was the most dangerous country for women due to the high risk of sexual violence and forced labour.
For years now India has been grappling with cases of atrocities against women.
According to the 2018 report by the National Crimes Record Bureau – a government organisation that collates all crimes in the country from every police station – there were 33,977 reported rape cases in India. When broken down, that is about 2,832 cases a month or 95 cases a day, or a rape every 15 minutes.
Source: Read Full Article